A question we get from time to time is what are the common pitfalls of selling by owner?  It's a great question, so let's dive in.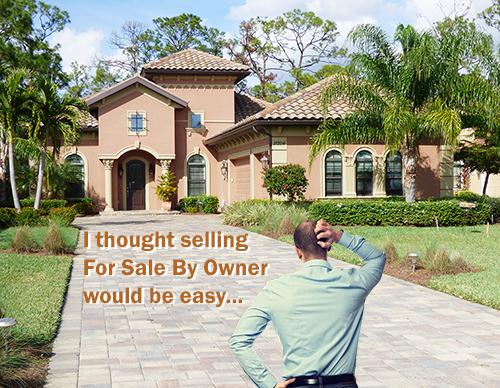 The first pitfall is legal.  Most sellers don't realize the regulatory pressures they are under, whether they sell by owner or with an agent.  The state has jurisdiction over property, homeowner, and condo disclosures.  The federal government has jurisdiction over issues like lead-based paint disclosures, waterways, docks, etc.  We're lumping the Army Corps of Engineers in with the federal government.  Missing any one of these important disclosures could cost you a sale, or worse, a lawsuit or fine.
Security is another issue that concerns sellers.  They want to know who is coming into their home.  Sellers are concerned if the prospect is an actual buyer, or someone who is looking over the contents of the home only to come back later and rob the place.
The Buyer's ability to pay for the home might be one of the largest concerns sellers have.  When selling by owner, asking this question can be tenuous.  The buyer feels like it's none of your business and their finances are their business.  But it is the seller's business.  As a Realtor, we can ask those tough questions and demand proof.  It's what we do, and if a buyer is skittish about answering, it bears more questions.  Realtors with experience can read more into what's being said and uncover more facts.  Red flags should never be ignored.  Newer agents, and For Sale By Owners don't always see the red flags, and when they do, they don't know how to handle them.
Marketing is critical to getting top dollar.  It doesn't do much good to save a commission and lose money at the same time.  I've seen 3 studies that show For Sale By Owners sell for 6%-16% less than using a real estate agent.  Essentially it costs you nothing to use an agent but could cost you thousands not to.  Placing your home online in a few places isn't marketing.  It's simply listing it in a directory.  A few buyers might notice it, but you're not getting it out to the masses.
Sure, you'll get some calls from people looking to flip homes and unqualified buyers, but nothing that is going to close or gain you top dollar.  If you doubt us, just try it and see how you fare.  Then call us after a few weeks and we can change that for you.
All Realtors are not the same.  If some Realtors have a hard time marketing a home, imagine how hard it is for a For Sale By Owner.  Again, just placing it in MLS and putting a sign up is not marketing.  You need much more than that to get the word out.  If all you attract are unqualified buyers and just a small percent of the market, you're not attracting top dollar.
Imagine putting an item for sale in an online auction.  If you had one bidder, you might sell it.  If you had 10 bidders, it'd probably go for more money.  If you had 1,000 bidders, it would sell for more than if you had just one bidder.  Full market exposure equals Top Dollar.  Less than that equals less than Top Dollar.
The Agent You Hire Matters.  The Ellis Team markets your home for all it's worth.  We shoot for Top Dollar.  Why be satisfied with one buyer when you could have several to choose from? Our marketing generates lots of buyers.  We can bring all the buyers you'll ever need, but if the home is not priced correctly, they'll just go buy something else.
Check out www.swflhomevalues.com to get an idea of what your home may be worth.  Or you can Search the MLS like a pro at www.LeeCountyOnline.com
If you have a home to sell Always Call the Ellis Team, your Top Dollar Realtor!  239-489-4042 Ext 4  ask for Sande or Brett.  We're here to help.
Ellis Team Weekend Open Houses
Open House Saturday & Sunday 1-3 PM
San Carlos Park
Open House Sunday 1-3 PM
Cape Coral