New Pending Sales Jump in Southwest Florida
As I look back at our business over the last few months it seems we can't list property fast enough because we're selling our inventory quickly.  When you're busy and having a good month it's sometimes easy to lose track of the overall market.  This is one of the reasons we've always studied the market to spot trends. I've spoken with agents over the years and asked them how they thought the market was doing.  One agent would say it's on fire when another agent would say it seemed down.  I'd then follow-up and ask how their month was going and invariably the agent who said the market was on fire was having a good month and the agent who said it seemed down was having an off month.  This tells me they weren't studying the market but rather going by how their business was doing. It is human nature I suppose.  People tend to justify the market by how they're doing.  If they're having a bad month it must be the market.  It's easier to blame the market than evaluate everything you do, where you're spending money, etc. We've been really busy the last few months and we wondered if it's due to us working extra hard or if the market is doing well.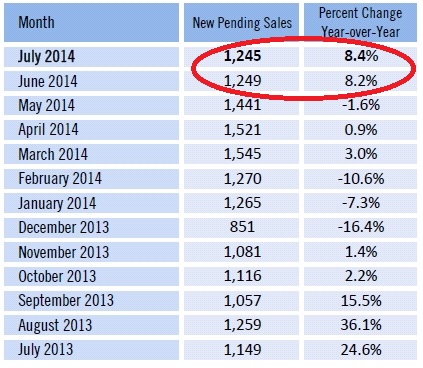 It turns out both are true.  We have been working really hard and the market is doing well.  Pending sales are up 8.4% in July over last year and they were up 8.2% in June.  Pending sales are a direct result of what inventory is available.  We've been saying for awhile there is limited inventory that is priced correctly.  If it is priced correctly and marketed properly, it will sell.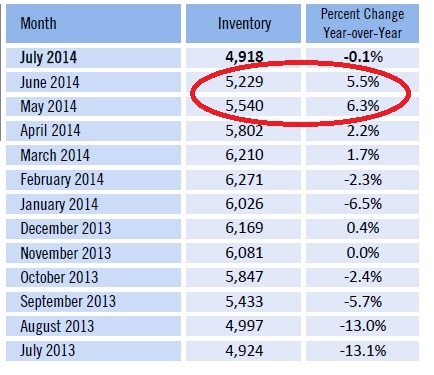 If you look at the inventory graph you'll see that inventory rose in May 6.3% and 5.5% June.  If what we've been saying is true, you would expect to see rising sales following the increases in May and June.  Sure enough, June and July pending sales rose 8.4% and 8.2%.  Actually inventory levels rose just a bit in March 1.7% and April 2.2% so that helped with the increase in pending sales too. The bottom line is if you're a seller, now really is a good time to talk to us.  The sales process has become more complex with more regulations and paperwork.  The good news is if you have an agent who can properly market your home, correctly price your home, and is astute to all the government regulations and changes in financing, you have an excellent chance at selling your home. In fact, the median days on market are down to 48 days.  Depending on your price range, your home could sell sooner than that. Last week many went to our website www.Topagent.com  to get an idea of what their home is worth online.  Sellers just love this tool.  Many times this year we've actually sold homes for more than what the computer said the home was worth.  The computer is an excellent way to get a ballpark idea of what your home is worth based on statistics and nearby home sales, but the computer hasn't been inside your home so you can't trust it completely.  That's where we come in.  We study your home versus recent comparable sales and educate you on where your homes should sell. We then show you our marketing plan and how we'll expose your home to the market.  This is where sellers are really impressed.  If you're considering selling, you should talk to us.  We can sit down with you and guide you through the maze.  It really isn't hard when you've got a pro guiding you.  Call us at 239-489-4042 or email me at Brett@topagent.com and we'll be glad to meet with you. Good luck and Happy Selling! Visit our Google+ Business Page Feel free to view our Virtual Tours . By Brett Ellis RE/MAX Realty Group – Ellis Team Fort Myers Real Estate Agent 7910 Summerlin Lakes Dr Fort Myers, FL 33907