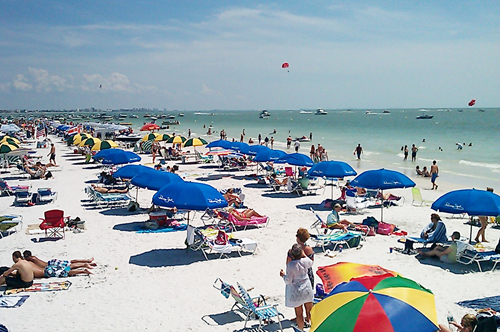 Last weekend I was down at Fort Myers Beach taking pictures for our Pinterest site.  I was amazed at how many people from all over were enjoying our beautiful beaches.  Traffic wasn't too bad, although practically every car had out of state license plates.  This past weekend most seemed to be from Indiana, although there were plates from Kentucky, Ohio, Canada, and many Sunshine State plates as well.
Many were enjoying Easter break.  There were many college aged people, but also many families.  What's not to love about our beaches?  SW Florida boasts some of the best beaches, and certainly the best weather in the country this time of year.  In fact, Fort Myers was on the map as the warmest city in the country this past week.
Two Local SW Florida Beaches Ranked as Top Beaches By US News World Report
In fact, US News and World Report ranked Fort Myers Beach as the 8th best beach in Florida, and ranked Sanibel Island as the #1 best beach in Florida due to its laid back atmosphere, art galleries, quaint eateries and supreme shelling.
Fort Myers Beach made the list for its small town feel.  I really like the wide beach with all the new sand since they've completed the beach re-nourishment project. People from all over the world travel here for our beaches and it's a shame local residents get so busy working and tending to their families that not all get out to enjoy the beauty that SW Florida has to offer.
I know having lived in SW Florida for years there were long periods of time I didn't make it to the beach.  It seemed like such a bother to pack up the car, go look for a place to park, find a spot on the beach, not to mention cleaning up all the sand that would inevitably find its way home with me.  In the past few years I've made getting to the beach a priority recognizing the sand, sun, and water are so relaxing and truly a natural wonder.
Perhaps the thing that makes SW Florida so unique is the small town feel, and the beach is no exception.  All are welcome here as practically everyone down here in SW Florida is from somewhere else.  SW Florida is truly a melting pot.  We've always attracted people from the Midwest, and in the last decade or so it's seems we're attracting more from the Northeast.  This could be the natural migration of people coming from the East coast of Florida who have always attracted people from the Northeast, or perhaps it could be the influence of ball teams like the Red Sox.
Whatever the reason people visit and enjoy SW Florida, few could argue an area has more to offer than right here.  We have world class fishing as many consider us the tarpon fishing capital of the world, top rated beaches, outstanding year round golf, and we're home to influential innovators like Edison, Firestone, and Ford.  Even Al Capone called SW Florida home.
Whether you're looking for a waterfront home where you can park your boat in your backyard, a golf course home, or a condo in a gated community, SW Florida has it all.  We even have vacant lots for you to build your life-long dream home.
This is the last weekend of season.  If you'd like to explore your options on how you could join the party and call the Fort Myers/Cape Coral area home, give us a call or send us a note and we'll be glad to go over your options and answer your questions.  We too moved here years ago and remember what it's like to have a dream and wonder what's the best way to make it happen.  Once that dream becomes a reality you'll be telling all your friends how you made it to paradise.
If we can help make that dream a reality, then you'll help us with our dream which is helping others making their dreams happen.  Call the Ellis Team at 239-489-4042 or visit our website at Topagent.com