December 2017 closed sales increased 1.9% over 2016 in the Southwest Florida real estate market.  However, the median sales price was down 4.6% while the average sale price was down 16.3%  The slight increase in number of closings wasn't enough to pull the total dollar volume with it, so we saw a decrease of $55 million in total volume. December Southwest Florida Dollar Volume Drops.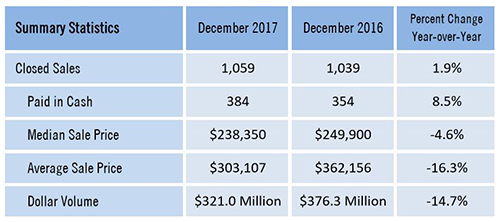 Is this concerning?  Not really.  We know that many properties were affected by the hurricane.  It stalled some sales, and it's forced some sellers to wait due to increased time repairing pool cages, screens, roofs, etc.  I talked with a roofer this past weekend who said it will be 9 months before the roofing market returns to normal.  His advice, if you don't need a new roof today, wait.
Prices for roofs, pool cages, screens, etc is artificially too high due to demand.  Prices will come down as the workload lessens in the future.  I talked to a builder who has delayed homes because they can't get pools done on time or within budget.  These high costs will pass, but it will take time.
We feel that the housing stats are more a reflection of disruption than anything.  We pulled the 7 day Market Watch report from MLS and what a difference a few weeks make.  We're back to normal.  Pending sales have almost equaled new listings.  This tells us that buyers have turned on.  They are out there buying right now.
We also had more price decreases than new listings.  This tells us that sellers are getting more realistic and are reducing prices to match where the buyers are.  The price reductions are working.
Each year sellers bring properties to market in hopes of testing new highs.  Prices have risen so much that buyers are indifferent to overpriced listings.  Homes today must be priced correctly, or buyers will pass.  In a rapidly upward sellers' market, buyers are forced to act quickly.  We weren't seeing that a few weeks ago.  We are starting to see that now, however buyers are still price conscious.
Sellers are getting restless.  The calls into our office from sellers with other listing agents has increased dramatically.  They are unhappy with their agent for one reason or another.  We cannot list their property until their listing ends, so they're stuck with their situation unless they work something out with their broker.
Our advice would be this.  All agents are not the same.  It pays to interview top agents and compare them.  Compare marketing plans, pricing, communication expectations, track record, references, etc.  I know it takes a little more time on the front end, however it will save you a lot of unhappy time waiting for a listing to end on the back end.
Interest rates are rising right now.  Waiting in this market is not good.  Buyers are here now and they're buying.  You want to be priced correctly and marketed correctly.  It's the only way to get Top Dollar for your home.  You don't want to be the last seller standing once season ends.  That means you lost the home selling game and you'll be looking at fewer buyers with higher rates in the future.  The time to get this correct is right now.
If you're thinking of selling, always call Brett or Sande Ellis at the Ellis Team at Keller Williams Realty.  Our marketing is second to none, and we'll help you get your price correct too.  Call us at 239-489-4042 Ext 4 so we can get your home sold now and for Top Dollar.
To search the MLS like a pro, go to www.LeeCountyOnline.com  you'll find the all the listings updated instantly.  You can even get an idea on what your home is worth for Free!
Good luck and happy home buying!
Ellis Team Weekend Open Houses
Open House Saturday 1-3 PM
Paseo Open House Saturday 1-4 PM
Bell Tower Park Open House Saturday 1-3 PM