This week we decided to focus on the local Southwest Florida real estate  market and study how the distressed sales market is affecting the overall market.  As we've been reporting median prices have been dropping the past few months which is typical this time of year.  Many people will blame it on foreclosures and short sales dragging down the market but a closer look reveals it may not be.

Average days on the market has been slowly rising, however it did the same thing this time last year so we're not too concerned.  There is sometimes a brief lull before the season sales heat up beginning in January.  Inventory is up slightly but hardly enough to keep up with demand in season.  This upcoming season could be held back due to limited inventory.  Depending on how election goes, prices could rise quickly or stagnate.  We're writing this article before the election so we have no idea what consumer sentiment about the national budget, the fiscal cliff in January, or anything else until more is known.
What is known is that distressed sales actually increased in the 3rd Qtr of 2012.  This isn't the end of the story however.  People usually associate foreclosures and short sales with lower prices, and it's true the distressed sales were at lower price points than traditional sales, but an in-depth look reveals something interesting.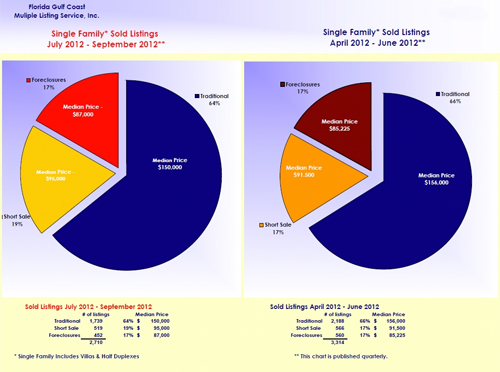 Traditional sale median single family home prices actually fell $6,000 while short sale median prices rose $3,500 and foreclosure prices rose $1,775.  We can't blame the decrease in prices to distressed sales, so something else is going on.
It is seasonal. It can also be the economy.  Employers have been on hold waiting to hear what the health care regulations will be, along with what will happen in January with the financial cliff.  Several large employers nationwide were set to give pink slips to employees until the Obama administration said by law they don't have to give the notice.  He made an executive order to suspend that law during the election.
The thinking must be that whomever is elected will work with Congress in Nov and Dec to avoid severe cutbacks in defense spending and high tax increases in January.  Once employers know what the true cost will be to hire employees they can make decisions.  Our nation has been in a no-man's land and it's hurt the economy.
The economy drives the real estate market, and in turn real estate sales pays back the economy with spending on things like appliances, carpet, home improvement, etc.
Either way I think season will be good because we have low inventory..  The question is will it be great?  The answer to that relies on the economy and the next president's ability to work on solutions with Congress, for the benefit of us all.
Good luck, and Happy House Hunting!!